Home
Vice President of Cranfield University UK Appointed as "Honorary Professor"
2018-09-17
From September 8th to 11th, Prof. Simon Pollard, Fellow of The Royal Academy of Engineering, the Vice President of Cranfield University, visited Jiangsu University and was appointed as an "Honorary Professor". During his visit, Prof. Yuan Shouqi, University Committee Chair, Prof. Yan Xiaohong, President of JSU, leaders from the International Office, Graduate School, the Personnel Office, School of the Environment and Safety Engineering, School of Material Science and Engineering, and School of Management attended collaborative meetings with him.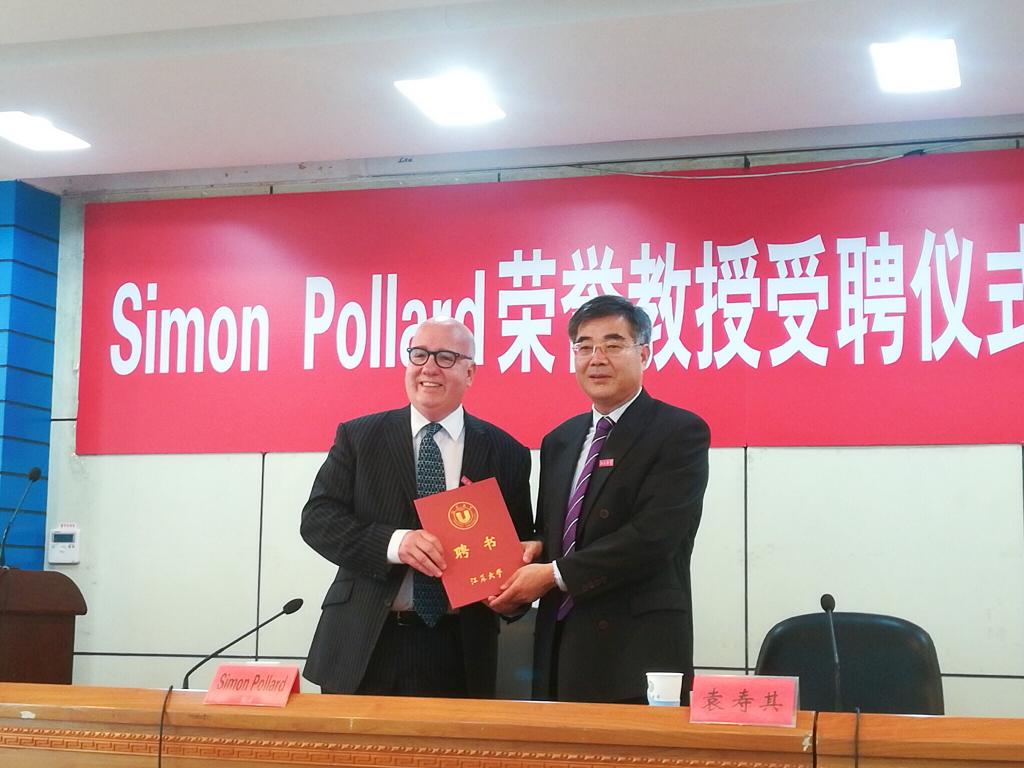 The appointment ceremony of the "Honorary Professor" and academic lecture "From Risk Assessment to Risk Management: Improving the Risk Management Level of the Water Industry" was held on September 10th. Prof. Yuan Shouqi awarded the Honorary Professor's certificate of appointment and the university badge for Prof. Pollard. Prof. Pollard described his good impression of Jiangsu University and said that there has a bright future for cooperation between the two universities.
On September 11th, President Yan Xiaohong, Li Zhongxing, Director of International office, Huang Ting, Deputy Director of International Office, and Wang Changda, Vice President of the Graduate School met with Prof. Pollard. President Yan Xiaohong extended a warm welcome to Vice President Simon Pollard and introduced the general situations and special items of international exchange and cooperation. Prof. Pollard introduced the characteristics of Cranfield University and its development plan in China. The two sides talked about the talented students training model, goals and next-step in the process of launching the "Dual Degree Program of Graduate" between the two parties. Later, Prof. Pollard visited the University History Museum.
Cranfield University' UK was founded in 1969. It is the only university in Europe with an airport. It is among UK's Top 5 research universities that only award Master and Doctoral degrees, alongside Cambridge, Oxford, Imperial College London and University College London. Its aeronautical engineering school still awards more than 50% of the postgraduate degree in aeronautics and aerospace engineering in UK. Its alumni include well-known figures such as CEO of Rolls- Royce, CEO of Aston Martin, CEO of Barclays Bank and so on. Its` School of Management is ranked 2nd in the UK Business Schools Rankings and has achieved triple business school accreditation (AACSB, AMBA, EQUIS).