News & Events
Vice President of Northern Arizona University Visited JSU
2017-11-06
On October 31 2017, Liz Grobsmith, Vice President of University of Northern Arizona, and her colleague visited our university. Vice President Chen Long met with the guests in the second lecture hall B of the conference center. The Director of International office and the relevant representatives of School of Automotive and Traffic Engineering also attended this meeting.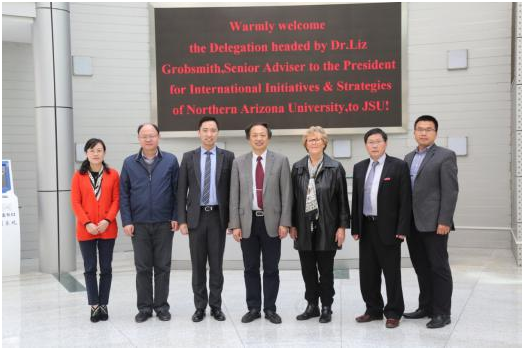 During the meeting, Vice President Chen Long extended his warm welcome to Vice President Liz Grobsmith and her delegation and briefed the guests on the strengths and characteristics of our university in personnel training, discipline construction, social services and the "1 + 2.5 + 0.5" dual degree program.
During her visit, Liz Grobsmith gave a lecture on "How to Benefit from the University Education for a Lifetime" to the students of Vehicle Engineering Program and held discussions with the students.
Founded in 1899, NAU is a well-known university in the United States offering 144 Bachelor's degrees, 88 Master's degrees, 9 Doctorates and more than 23,000 students and ranked as one of the top 500 universities in the world in 2017.