News & Events
Jiangsu University holds the 7th International Cultural Festival
2017-06-23
On May 20, 2017, the 7thInternational Cultural Festival of Jiangsu University was officially launched. Yan Xiaohong, President of JSU, and Zhang Guoyun, Director of the Foreign Affairs Office of Zhenjiang Municipal Government, delivered keynote addresses at the opening ceremony. The officials who attended the opening ceremony were Mary John Oti and Joseph Okpache Onah (Consuls General of Nigeria in Shanghai), Behnam Azad (Consul General of Iran in Shanghai), Hafiza Humaira Javaid (Vice Consul General of Pakistan in Shanghai), Yu Xiaonan (Researcher of International Division of Jiangsu Education Department), Zhu Xiangwei (Exit and Entry Administration Detachment Commissar of Zhenjiang Public Security Bureau), Feng Jinxiang (Director of Entry and Exit Inspection and Quarantine Bureau of Zhenjiang City), and Jin Lifu (Director of Publicity Department of JSU).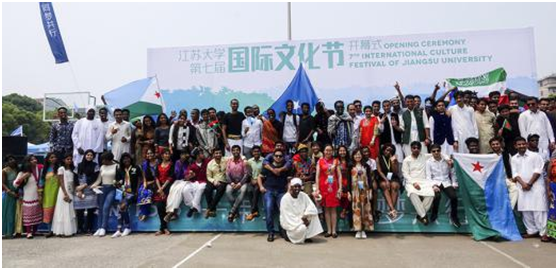 The 7thInternational Cultural Festival theme "5.20 Dear world, I love you" is jointly sponsored by the Overseas Education College and the Youth League Committee of JSU.The cultural festival lasts from May to November with numerous activities, such as Chinese Contests, International Fashion Shows, Chinese and Foreign Cultural Exchange Forum, Chinese and Foreign Graduate Academic Forum, Film Dubbing Competitions, and International Art Exhibitions.
During the opening ceremony, thousands of overseas students and teachers from more than 100 countries gathered and exhibited unique food, clothing, handicrafts, and song and dance performances. A qipao fashion show of professors exhibited the oriental, classical art incisively and vividly. Overseas students displayed their cultural attributes to Jiangsu University vividly. Some of the performances were drama and dance by students from Bangladesh, songs & dances from India and Africa with primitive enthusiasm.
Enterprises from the United States, Shanghai, Beijing, Zhejiang, Anhui and Jiangsu were also invited to the opening ceremony to recruit foreign students.There are a huge number of overseas students from countries along the "The Belt and Road Iniatiative" program in Jiangsu University. JSU is making great efforts to promote cooperation between the university and enterprises, to honor talents, and to foster the same morale by culture exchanges.