News & Events
Pakistan Sukkur Institute of Business Administration Signed a Memorandum of Cooperation with JSU
2017-06-23
On May16th, 2017, Prof. Nisar Ahmad Siddiqui, President of Pakistan Sukul Institute of Business Administration, Dr. Zahid Husaain Khand, Provost of the Teaching AdministrationDepartment, and Dr. Faheem Akhter, Director of the Department of Electrical Engineering, visited JSU. Prof. Yan Xiaohong, President of JSU, met with the delegation accompanied by Prof. Li Zhongxing, Director of the International Office, Prof. Jiang Haobin, Dean of the School of Automotive and Traffic Engineering, and Prof. Du Jianguo, Dean of the School of Management, Huang Ting, Deputy Director of the International Office.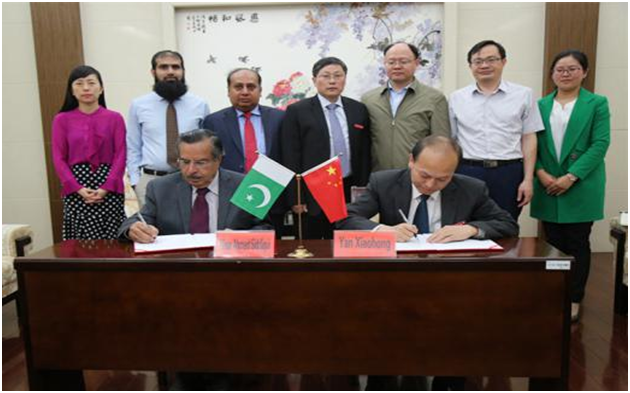 President Yan expressed his warm welcome to the delegation and introduced the history, current development, comprehensive strength, academic characteristics, internationalization strategy and achievements of our university. He also mentioned that our university actively joined"The Belt and Road Initiative" By setting up"The Belt and Road Iniatiative" Industry-University Alliance of International Personnel Training to promote students enrollment and training for those countries along"The Belt and Road Iniatiative ".
Prof. Siddiqui thanked JSU for the hospitality and introduced the basic situation, faculty settings and advantageous disciplines of the Institute. He said that the friendship between China and Pakistan had a long history and they attached great importance to cooperation with Chinese universities. Their institute, located in the main settlement for Chinese people in Pakistan, has obvious geographical advantages. Besides, they specially set up courses for students and residents to learn Chinese and Chinese culture.
The Sukkur Institute of Business Administration is a public university located in Sindh province, Pakistan, with the right to grant the degrees of bachelor, master and doctor. The institute started in 1994 focusing on business and enginering disciplines among other.
On the basis of full exchange and communication, the two universities reached a consensus on many aspects, such as the recruitment of Pakistani students, teacher exchanges and the will of joint establishment of Confucius Institutes. The two leaders signed a memorandum of understanding witnessed by all the participants.