News & Events
Teacher of JSU Published the Latest Research Work in Nano Energy
2019-11-27
Recently, Dr. Chao Wang and his co-workers reported the latest research work titled "Rapid gas-assisted exfoliation promises V2O5 nanosheets for high performance lithium-sulfur batteries (10.1016/j.nanoen.2019.104253)" in Nano Energy (IF=15.548, Top journal in energy environment). Jiangsu University is the first corresponding department and Dr. Chao Wang is the first author.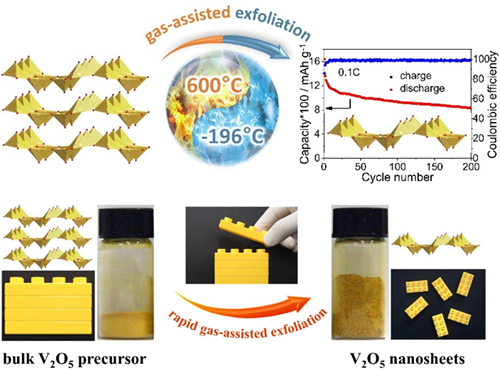 Rechargeable lithium-sulfur (Li–S) batteries with outstanding theoretical specific capacity and energy density are attracting considerable attentions because they are promising candidates for mobile devices and electric vehicles. However, the dissolution of reaction intermediates (Li2Sn, 4 ≤ n ≤ 8) in the electrolyte would arise several problems, such as. (1) the insulating properties of S and lithium sulfide, (2) the notorious shuttling of the polysulfides, and (3) huge volume fluctuations (~80%). Incorporating S into host materials with high specific surface area and abundant polar sites would be a suitable method to solve the above problems. In this work, ultra-thin V2O5 nanosheets (< 3 nm) are successfully prepared from commercially available bulk V2O5 by this convenient gas-assisted exfoliation method. The obtained ultra-thin V2O5 nanosheets are used as effective host materials for Li-S batteries with promoted performance, as they can help to confine and alleviate the shuttle of polysulfides efficiently. The as-prepared V2O5–S composite electrode delivered an initial discharge capacity of 1638.5 mAh g-1 with a high Coulombic efficiency of 96.7% and maintained a specific capacity of 838.8 mAh g-1 after 200 cycles at 0.1 C current rate. This work not only provides a novel electrode material as a host for S cathodes in high-energy-density and long-cycle-life Li–S batteries, but also shares new insight for the production of few-layered TMOs, which can be used in many other areas.
This work is supported from the National Natural Science Foundation of China (Nos. 21722604, 21808092 and 21978231). Prof. Wenshuai Zhu, A. P. Mingtao Li and Dr. Sheng Dai are the corresponding authors.