News & Events
JSU won 9 prizes in the 16th Jiangsu Provincial Challenge Cup
2019-06-06
During the 24th to 26th of May 2019, Nanjing Agricultural University held 16th "Ruihua Cup" -- the Jiangsu Provincial College Students' Extracurricular Competition of the Scientific Works, called the "Challenge Cup". It was a fierce competition but JSU managed to pull through to the finals by securing five special prizes. The team brought home an Outstanding Organizational Award, together with different scientific work awards taking the 5 special prizes, 1 first prize and 2 second prizes. Gracing the event with his presence was Zhang Jijian, Vice President of JSU. The teachers in charge of the League Committee partook and guided students throughout the entire competition.
The Provincial University Students' Scientific and Technological Innovation Achievements Exhibition was held at the Tennis Hall of Nanjing Agricultural University. The League Committee from JSU met Chen xinying, vice governor of Jiangsu, and Wang Wei, secretary of the League Provincial Committee during their exhibition and felt motivated by their high appraisals. Jiangsu Satellite TV reported the exhibition works of JSU. The exhibitions were conducted in a cordial and positive spirit.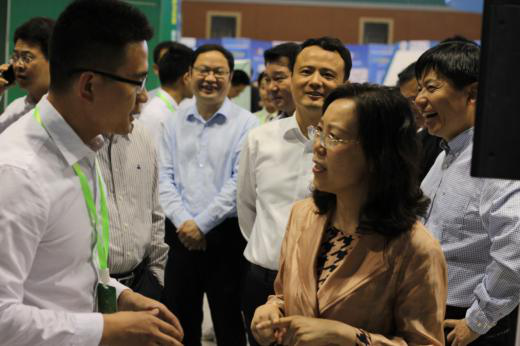 The contest, with the theme of "Youth Meets Challenges, Achieves High Quality", attracted 640 entries from 125 universities in the province. Only 321 entries from 98 universities after preliminary online reviews were allowed to move forward to the finals. The final list was selected using the criteria of "work statement plus judges' questioning". 10 works of JSU was registered, of which 8 ones made it to the finals and 6 won. As one of sponsors of "Challenge Cup" competition, JSU was proud of the performance of their team winning 6 awards to the Nationals. The League Committee is promising to improve and perfect their works by 4-folds of the current performance, maintaining discipline and good quality in the preparation of the latter stage.