News & Events
JSU's Researchers Published the Latest Research Results in the Authoritative Journal Nano Energy
2019-05-23
Recently, Associate Professor Jiexiang Xia from the school of chemistry and chemical engineering published a research paper in Nano Energy (IF=13.120), an internationally authoritative journal in the field of energy chemistry, through the collaboration with Professor Zheng Liu from Nanyang Technological University in Singapore and Professor Stephen J. Pennycook from the National University of Singapore. The title is "Atomically-thin Bi2MoO6 nanosheets with vacancy pairs for improved photocatalytic CO2 reduction" (Nano Energy, 2019, 61, 54-59). Jiangsu University is the first institution of this paper, and Dr. Jun Di is the first author.
Exploring efficient strategies to increase CO2 photoreduction performance is a key challenge in the resource utilization of CO2. In this work, a cooperative role involving an ultrathin 2D structure and surface defects is employed to design defective Bi2MoO6 ultrathin nanosheets, to boost the CO2 photoreduction activity. The characterization techniques such as STEM-ADF, positron annihilation lifetime spectroscopy combined with theoretical calculations are employed to investigate the defects and electronic structures of the materials. The photocatalytic reduction and conversion process of CO2 was determined by 13CO2 isotope labeling, in situ infrared spectroscopy and CO temperature programmed desorption. The results show that the defect-rich ultrathin structure is beneficial to the adsorption and activation of CO2 on the surface of catalyst, and simultaneously favors the improvement of charge separation efficiency and desorption of CO. This work sheds light on how to design defective, highly efficient, solar-driven CO2 photoreduction catalysts.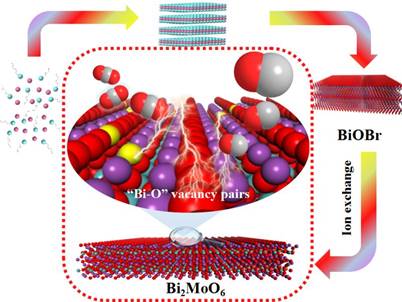 This work was financially supported by the National Natural Science Foundation of China.