News & Events
JSU was invited to attend the 13th Confucius Institute Conference
2018-12-18
From December 4th to 5th, the 13th Confucius Institute Conference hosted byConfucius Institute Headquarters (Hanban), was held in Chengdu. Sun Chunlan, Vice Premier and Chair of the Council of the Confucius Institute Headquarters, attended the Opening Ceremony and delivered a speech. Prof. Zhao Yutao, Vice President of JSU, and Prof. Li Zhongxing, Director of International Office, were invited to attend the conference.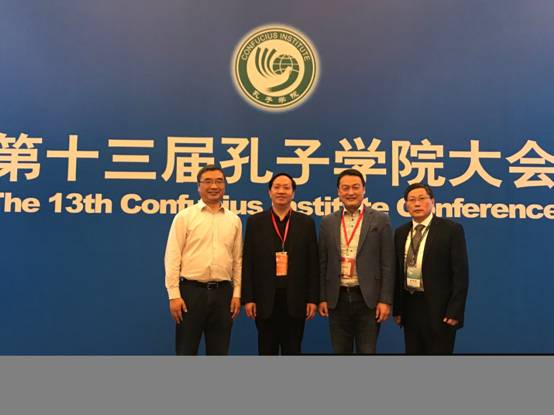 The Conference, taking "Boosting Development through Reform and Innovation, Creating Future with Joint Efforts" as its theme, includes two themed forums, eight forums for domestic and foreign university presidents, and 20 workshops. More than 1,500 Chinese and foreign representatives from over 150 countries and regions came together and spoke freely to jointly make suggestions for the development and reform of the Confucius Institute.
During the conference, Vice President Zhao Yutao participated in the"'Chinese Plus' and Specialized Development of Confucius Institute", "Digitalization of Confucius Institute", "The Building of Evaluation Mechanism and Exit Mechanism of Confucius Institute", "Cultivating Plural Partnership System for Confucius Institutes", "Building Two-Way and Plural Platforms for Communication in Confucius Institute". And also conducted in-depth cooperation and exchanges with the heads of relevant departments of Hanban and the presidents of Confucius Institute, University of Graz .
The Confucius Institute is a product of China's educational reform and opening up and going to the world. It is also a successful example of educational exchanges and cooperation between China and the rest of the world. Up to now, there have been a total of 548 Confucius Institutes in 154 countries and regions around the world. The Confucius Institute jointly established by our university and the University of Graz in Austria in 2010 and has developed rapidly.