News & Events
Director of Science and Technology Branch of Agriculture and Afri-Food Canada visit JSU
2018-11-02
On October 23rd, Prof. Yuan Shouqi, Chair of University Committee, met with Javier Gracia-Garza, Head of Science and Technology Branch of Agriculture and Afri-Food Canada (AAFC) and his group, accompanied by China Rural Technology Development Center of the Ministry of Science and Technology, the leaders from School of Food & Biological Engineering, and International Office attended the meeting.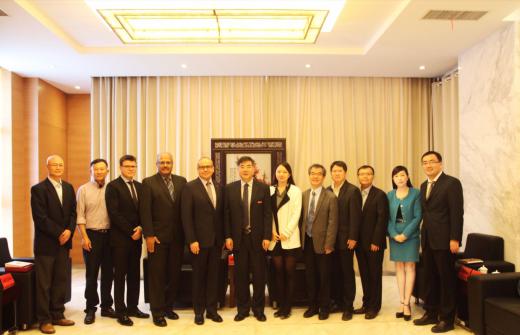 Prof. Yuan Shouqi expressed warm welcome to Director Javier Gracia-Garza and his group. He introduced the long history of Jiangsu university and the achievements in personnel training, scientific research and internationalization, and emphasized that the agricultural engineering of JSU is at the leading position in China. In 1993, the first doctoral program of "Agricultural Products Processing Engineering" was approved. He hopes to establish an international joint laboratory with AAFC, jointly hold high-level international conferences and declare international scientific research projects. Director Javier Gracia-Garza expressed sincere gratitude to the warm reception of our university, introduced the layout of Canadian agricultural research fields and research institutes, fully affirmed the cooperation achievements of both parties, and said that it would effectively promote the development of bilateral cooperation to a higher level. China Rural Technology Development Center of the Ministry of Science and Technology of People's Republic of China also stated that JSU has noticeable academic advantages and will support our university to strengthen cooperation and common development with AAFC.
The delegation also participated in the China-Canada rapeseed and oatmeal science and technology innovation cooperation seminar organized by the School of Food & Biological Engineering. They discussed and clarified the cooperation areas and models, and then visited Jiangsu University History Museum.
Director Javier Gracia-Garza joined AAFC in his current position in February 2016, with responsibilities including: Leading the development of scientific capabilities in the grasslands through a network of scientific centers in animals, crops, soil, food science, botany, zoology and biodiversity; Ensuring that the region's science and technology portfolio meets the priorities of the Canadian government; promoting new knowledge and technology to the agricultural sector; maintaining and fostering effective relationships with stakeholders, including governments, universities, producer associations and private companies. At the same time, he is also responsible for the beef and food segment industry strategy and strategy for the cereal industry, wheat variety, genomics, water management, bee and antimicrobial resistance management.