News & Events
JSU Won 7 Best Awards at the Tri-U International Joint Seminar & Symposium
2018-11-16
From November 4th to 8th, the 25th Tri-U International Joint Seminar & Symposium (Tri-U) was held at Chiang Mai University, Thailand. Li Hongbo, Vice Chair of University Committee, led 5 faculty staff and 18 students to participate it, and won 4 Best Presentation Awards, 2 Best Poster Awards and the "Best Workshop Award" as the best performing team among the 14 participating universities.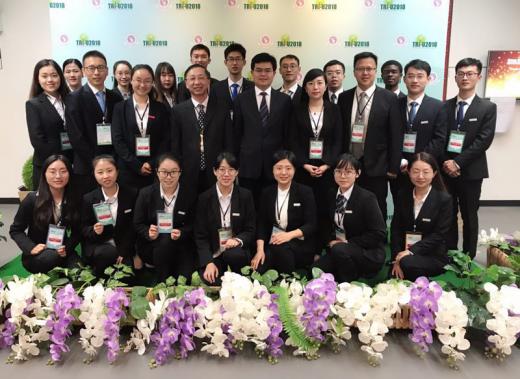 The themes of this year were "Population", "Food", "Energy", "Environment" and "Sustainable Society". The event consisted of 23 categories of 23 best awards and more than 160 delegates of 14 universities from China, Japan, Thailand and South Korea. Lv Yiqiang from School of Automotive & Traffic Engineering, Luo Lijun from School of Agricultural Equipment Engineering, Wu Shumin from School of Teacher Education, and Li Hui from the School of Management won the "Best Presentation Award"; Xie Jiaxi from School of Medical Science and Prince Junior Asilevi from Overseas Education College were awarded "Best Poster Award". About the "Best Workshop Award", Lv Yiqiang from School of Automotive & Traffic Engineering, Xie Jiaxi and Wang Zhutao from School of Medical Science worked as team leaders.
Since 1994, Tri-U IJSS was initiated by Mie University (MU) of Japan, Chiang Mai University (CMU) of Thailand and Jiangsu University (JSU) of China. Since March of this year, the International Office has taken the lead, the Students Affairs Office, the Youth League Committee and other relevant schools have taken active actions to support the organization of the 25th Tri-U. Side by side with the young teachers of various schools, they provide meticulous counseling to all student delegates to improve their academic level and English communication skills. Their hard work ensure the academic quality of the participants.