News & Events
Vice President Zhang Jijian Led a Delegation to Visit Ghana and Zambia
2018-09-05
From August 18th to 26th, 2018, Vice President, Prof. Zhang Jijian was invited by the Cape Coast University of Ghana and the Ministry of Agriculture of Zambia to visit them Executive Director of the Department of Agricultural Equipment, Prof. Mao Hanping, Dean of the School of Pharmacy, Prof, Xu Ximing, and Director of International Office, Prof. Li Zhongxing, accompanied Vice President on this visit.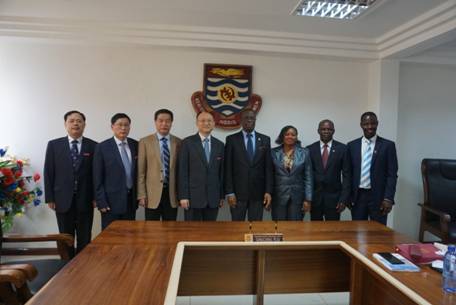 During their visit to Ghana, President Ampiah of the Cape Coast University of Ghana expressed his warm welcome to the delegation and thanked JSU for cultivating more than 10 outstanding teachers for them. The two parties introduced the current development, the characteristics of disciplines and the development strategy, and discussed the areas and models of cooperation. The delegation also visited the School of Agriculture and Natural Sciences and the School of Pharmacy, and exchanged views with alumni representatives Agandaa Paula Mavis and Twum Ampolo Donna (our university's clinical medicine graduates), on the proposed establishment of the Ghana Alumni Association.
During the visit to Zambia, the delegation discussed with the Minister Michael Katambo, Ministry of Agriculture, and the Executive Secretary Peter Lungu, on further cooperation in promoting agricultural mechanization and modern implementation of agricultural development, and discussed the cooperation between the two universities with Patricia Mwila Sakala, Director of the International Office of the University of Zambia.