News & Events
Joint Two Million Yuan Scholarship BY CIMC Automobile Group and Zhenjiang Municipal Government
2018-01-22
On November 14th, CIMC Vehicle GroupGeneral ManagerLi Guiping, guest professor of Jiangsu University, headed a delegation of 7 persons to visit JSU, signed an donation agreement of 2 million yuan with President Yan Xiaohong.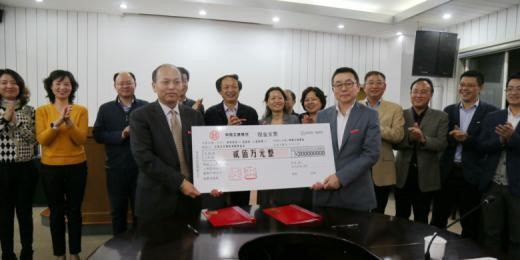 This joint scholarship by CIMC Vehicles Co., Ltd. and Zhenjiang Municipal People's Government is to reward outstanding students of the School of Honors and School of Automotive and Traffic Engineering. The purpose of setting up scholarships is to promote resource sharing and mutual benefit between universities and enterprises. It is expected that the two sides will use this scholarship grant as an opportunity to gradually carry out a series of cooperation in personnel training and create a rewarding platform for the government, enterprises, and universities.
President Yan Xiaohong highly praised CIMC Vehicle Group for its vision and responsibilities in support of education. He took Jiangsu University's talent cultivation characteristics with emphasis on practical ability as its core content and the implementation plan of the "New Engineering" section as an example. He said that the new round of scientific and technological revolution and industrial advancement are common challenges and opportunities for universities and enterprises.
CIMC Vehicles (Group) Co., Ltd. is a group enterprise of CIMC based in the special automotive industry. After years of development and accumulation, its semi-trailer business accounted for more than 10.5% of the global market share. Its comprehensive scale and strength have been among the highest in the global special – purposes vehicles industry. It has a number of investment projects and companies in Jiangsu Province. Its Yangzhou CIMC Tonghua Special Purpose Vehicle Co., Ltd. is located in the economic zone of Zhenjiang, and the CIMC vehicle trailer leasing headquarters has also settled in Zhenjiang.