News & Events
JSU Successfully Held Media Conference of "1st Chinese Wushu Champion ships-African Cup" in Zambia
2017-06-23
Dr. Cui Hengwu, JSU representative in Africa and President of the Chinese Wushu Association in Zambia, successfully held the Media conference of "Ceremony of Zambia National Martial Arts Training Center" and "The 1stChinese Wushu Championships - African Cup" on May 5, 2017 in Lusaka, Zambia. The event was strongly supported by the Chinese Embassy in Zambia, the Zambia Ministry of Sports and the Chinese people in Zambia.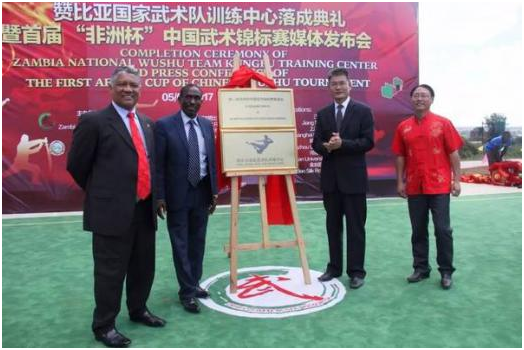 Yang Youming, the Chinese Ambassador in Zambia, delivered a speech and gave the Chinese Wushu Association in Zambia a high appreciation by strengthening the positive role of the Association in promoting China-Africa friendship. Lawrence Sichavi, the Minister of Sports of Zambia, congratulated and supported the initiative. Jeven Lubinda the Minister of Justice of Zambia, Shaolin Tagou Education Group, Shanghai Institute of Physical Education, Chen Taiji Zhengzhou Boxing Museum and other units were also invited to attend the media conference.
During "The Belt and Road Initiative Forum for International Cooperation" held in Beijing from May 14 to 15, President Xi Jinping promoted the national strategy of making parallel economic and cultural improvements, in which the promotion of Chinese martial arts culture was specifically referred to. This would bring new opportunities for the spread of martial arts worldwide. The schedule for "The 1stChinese Wushu Championships - African Cup" would have been initially arranged from June to August next year in Zambia, which will play an active role in promoting national communication and cultural exchange.
National television channels and major newspapers in Zambia covered the event thoroughly and Xinhua News Agency Lusaka gave a special report on May 5. Sina, Sohu and other major Chinese media sites also reported the conference.