News & Events
The 4th Sanjiang Intellectual Property International Forum Hosted by JSU
2016-12-13
Jiangsu University hostedThe 4thSanjiang Intellectual Property International Forumon November 4, 2016. This forum was co-hosted by China Patent Protection Association, organized by Intellectual Property Research Center of Jiangsu Province, Jiangsu Huizhi Intellectual Property Service Co., Ltd., and supported by Intellectual Property Office of Zhenjiang City. Mr. Ma Weiye (Secretary-general of China Patent Protection Association), Ms. Zhu Xiaoming (Mayor of Zhenjiang municipal Government), Ms. Zhi Suping (Director General of Intellectual Property Office of Jiangsu Province), Prof. Yuan Shouqi (Committee Chair and President of JSU) attended the opening ceremony, moderated by Prof. Cheng Xiaonong (Vice President of JSU).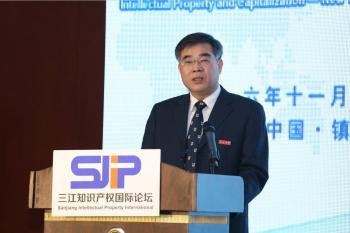 The theme of the forum was "Intellectual Property and Capitalization-New Value, New Power and New Development". This forum invited representatives of governments, enterprises, universities and research institutes from China, the United States, Germany, Japan, South Korea, China and other countries. Participants shared the latest research results and successful experiences in areas of Intellectual Property and Capitalization.
This forum contained three sub-forums, with the topics of "CEO Dialogues on Patent Operation-making Innovation More Valuable", "Intellectual Property and Capital- New Power to Start a Business", and "Capitalization of Intellectual Property in Enterprise-an Achievement of New Development", respectively. Dialogue was the format of the sub-forums and the guests engaged in a heated discussion.
This forum provided a communication platform for governments, enterprises and specialists in intellectual property and finance, and promoted a better integration of intellectual property and financial resources.