News & Events
Delegation of the 23rd Tri-U International Joint Seminar & Symposium Concludes with High Accolades
2016-11-25
Delegation of the 23rd Tri-U International Joint Seminar & Symposium Concludes with High Accolades
The 23rdTri-U International Joint Seminar & Symposium was hosted and organized by Bogor Agriculture University in Indonesia from October 23rdto 28th, 2016. 24 students and faculty members of Jiangsu University participated in the seminar. More than 120 participants from 10 universities and 7 countries, such as Japan, Indonesia, China, Thailand, etc. attended the seminar.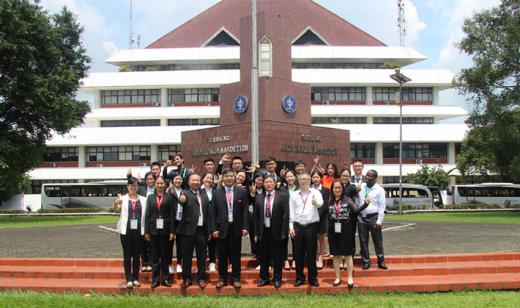 During the seminar, Prof. Henry, President of Bogor Agriculture University and President Yuan Shouqi renewed a cooperation agreement between the two universities, and discussed the fields and modes for the future cooperation. With excellent performance, the delegation from our university won 4 out of 11 "Best Oral Presentation Award" and the praise of teachers and students from all 7 countries.
The theme of the 23rdTri-U was "Population, Food, Energy, Environment and Bioinformatics". During the seminar, students were asked to give oral presentations, and to participate in poster exhibitions, workshops, and cultural exchanges. Prof. Sun Jianzhong from the School of Environment and Safety Engineering delivered a keynote speech entitledHarnessing the Biomass Recalcitrance for Fuels and Chemicals: Current State of the Arts and Our Strategies in China.
The annually-held Tri-U International Joint Seminar & Symposium is co-sponsored by Mie University of Japan, Chiang Mai University of Thailand, Jiangsu University of China. The first session was held in Mie University, Japan. In 2011, Bogor Agriculture University became one of the organizers approved by the key person meeting. After more than 20 years' development, Tri-U has become an excellent platform for professors, young scholars and college students to strengthen academic exchanges and cooperation, and to improve scientific research.