News & Events
Visiting Professor Peturs Henricus Tijssen won Jiangsu Friendship Medal
2016-11-23
Visiting Professor Peturs Henricus Tijssen won Jiangsu Friendship Medal
Jiangsu Friendship Award Ceremonywas held on Sept. 26, 2016 in Nanjing by Jiangsu Human Resources and Social Security Department. Prof. Petrus Henricus Tijssen, visiting professor of JSU won Jiangsu Friendship medal.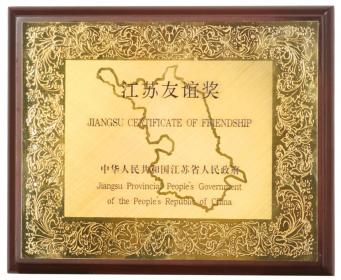 Prof. Tijssen is the tenured professor in virology area from National Institute of Scientific Research of the University of Quebec, in virology area. Since 2007, Prof. Tijssen has been working with virus research team of Institute of Life Science of JSU. In 2013, Prof. Tijssen became the visiting Professor of JSU.
Jiangsu Provincial People's Government sets upJiangsu Friendship Awardin order to commend the foreign experts who have made remarkable contributions to Sino-foreign coopertation and exchange as well as the economic and social development of the province.