News & Events
A Delegation from Mississippi State University Visited Jiangsu University
2016-10-28
A Delegation from Mississippi State University Visited Jiangsu University
On October 25, 2016, the Assistant of the Vice President and Director of the International Office Professor Richard Nerd from Mississippi State University visited Jiangsu University with his delegation. Vice President Mei Qiang met the honored guests at the Conference Center.
During the meeting, Vice President Mei extended a warm welcome to the delegation and introduced the history, integrated competence and characteristics of Jiangsu University. Professor Richard expressed his sincere gratitude for our warm-hearted reception and introduced the basic information about Mississippi State University and its history and development. The two universities reached a consensus on expanding the scope of cooperation, broadening the summer holiday exchange programs and the co-cultivation of undergraduates and postgraduates.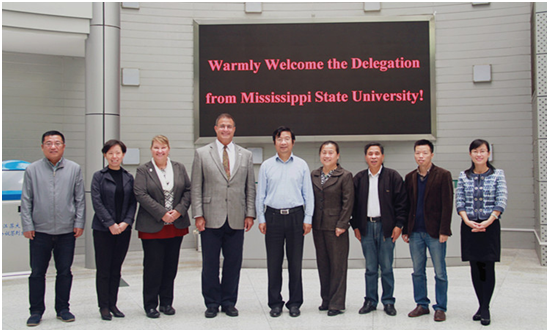 Mississippi State University was founded in 1878 and is a comprehensive university with a long history. It lies in the Starkville, Mississippi, USA and ranks 85thamong American Universities according to the Center for Measuring American University Performance.