News & Events
JSU Signs Cooperation Agreement with the University of Chester
2016-10-14
A delegation led by Prof. Tim Wheeler, president of the University of Chester, and Prof. Adrian Lee, Vice President visited JSU on October 10, 2016. President Yuan Shouqi met the delegation and signed a cooperation agreement between Jiangsu University and University of Chester. Vice President Chen Long also met the delegation.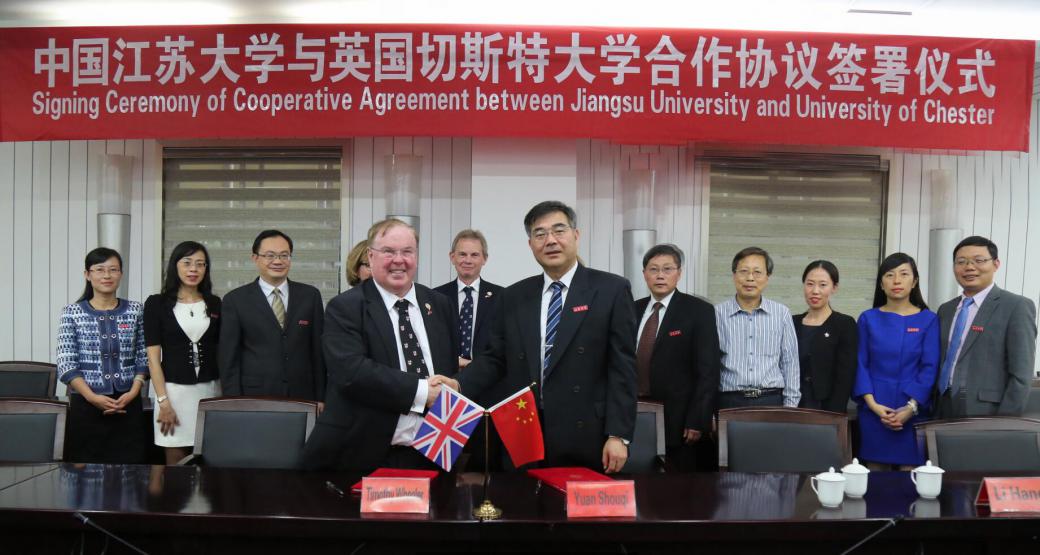 During the meeting, President Yuan Shouqi and President Tim Wheeler introduced the basic situations of the two universities and predominant disciplines to each other, discussed fields of cooperation and reached a consensus on student and teacher exchange, joint university administration, research collaboration, joint laboratory, Confucius Institute and TESOL training.
Founded in 1839, the University of Chester is one of the oldest universities in Britain. It was formerly known as Britain's first teacher training institute established by Prime Minister William Gladstone in the 19thcentury. According to a guideline released by The Guardian in 2014, the University of Chester ranked 46thwith 19,000 students from 130 countries and six campuses including the School of Art and Media, the School of Economics and Management, the School of Education and Children's services, the School of Health and Social Care, the School of Humanities, the School of Pharmacy, the School of Ethics, the School of Life Science, the School of Science and Engineering, the School of Agronomy and School of Social Science.