News & Events
2016 JSU-SIST International Mechanical Engineering and Information Symposium held successfully
2016-09-20
On September 15, 2016, JSU-SIST International Mechanical Engineering and Information Symposium was held in Jiangsu University. President Yuan Shouqi and the President Hiroshi Noguchi of Shizuoka Institute of Science and Technology attended the symposium. Vice President Chen Long hosted the opening ceremony.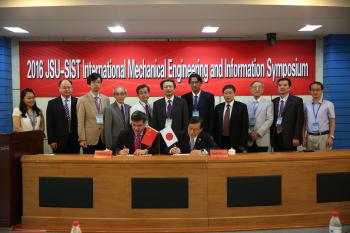 At the Opening Ceremony, President Yuan extended the most cordial welcome to the attendees and gave an overview of Jiangsu University. President Hiroshi Noguchi introduced the basic information about Shizuoka Institute of Science and Technology and wished the symposium a complete success. A Memorandum of Understanding was signed between the two universities and a preliminary agreement was reached on cooperative scientific research and academic exchange.
After the Opening Ceremony, 16 representatives from both universities presented findings from their latest research in mechanics and information.
At the closing ceremony, Vice President Chen Long and President Hiroshi issued the certificates of participation to the representatives.