News & Events
Oral Roberts University President visits JSU
2016-05-27
American Oral Roberts University President William M. Wilson visited JSU on May 23rd. President Yuan Shouqi met the guests along with leaders from the International Office and School of Humannities and Law.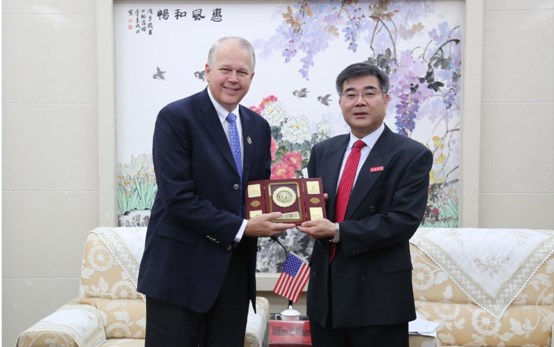 During the meeting, President Yuan gave his warmest welcome to President William. President William thanked JSU for the friendly and thoughtful arrangements. The two sides briefed each other on the development of the universities and expressed the desire to carry out exchanges and cooperation in the fields of Chinese language and literature, nursing, accounting, management, and education and etc.
During the visit, President William held a discussion with leaders from School of Humannities and Law, School of Medicine, School of Management, School of Finance and Economics, and School of Teacher Education, on specific cooperation with the exchange of students, teachers and other visits.
Oral Roberts University, founded in 1965, is a comprehensive university in the United States. It has several colleges including the College of Education, the College of Business, the College of Science and Engineering, the College of Nursing, and the College of Art and Cultural Studies, and so on.