Features
Two University Presidents from Ghana Visited JSU
2017-06-14
On April 19th, 2017, two presidents from Ghana Kumasi Technical University and Ruijint University of Science and Technology visited JSU. President Yan Xiaohong welcomed the two presidents and both sides worked out an in-depth exchange about renewing the academic agreements and strengthening the cooperation between universities on training overseas students and related matters. Present at the meeting were also heads of the International Office, the Overseas Education College, and the relevant departments.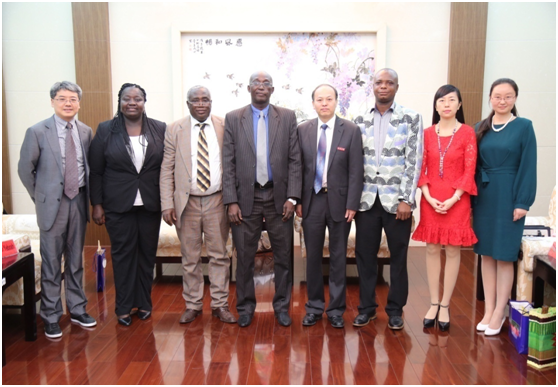 President Yan Xiaohong addressed the meeting and declared that JSU has played a vitally important role in the cooperation and exchange with Ghana universities, especially in the enrollment and training of students in China. JSU sets up the Belt and Road International Talent Training Alliance to cultivate the overseas students. President Yeboah and President Nicholas were both very grateful to the warm reception and strong support in training overseas students. They introduced the development history and disciplines of their universities, and expressed the expectation of a broader and deeper exchange based on the present cooperation.
Ghana Kumasi Technical University, located in Ghana Central Garden City Kumasi in West Africa, was founded in 1954 and is a well-known engineering university. Signing a cooperation memorandum in 2011 and establishing a friendly and cooperative relationship with JSU, the university has sent teachers and students to JSU for Bachelor's, Master's or Doctoral degree. Ruijint University of Science and Technology is also famous for engineering courses and programs.