Features
Co-Innovation Center for Modern Agricultural Equipment and Technology
2015-11-09
Co-Innovation Center for Modern Agricultural Equipment and Technology, Jiangsu University was officially approved by the Ministry of Finance and Education in 2013. Led by Jiangsu University, the Center is composed of China Agricultural University, Zhejiang University, South China Agricultural University, Chinese Academy of Agricultural Mechanization Sciences. Nanjing Institute of Agricultural Mechanization Ministry of Agriculture. Etc. It is launched to become the strategic base of modern agricultural equipment and technology, promote the combination of higher education with technology, economics and culture, and meanwhile to enhance dramatically the colleges and universities innovation ability, and support the construction of innovation-oriented powerful country. Since its establishment, the Center have made remarkable achievements in scientific research, awards for it, personnel training and the exchange in and outside China.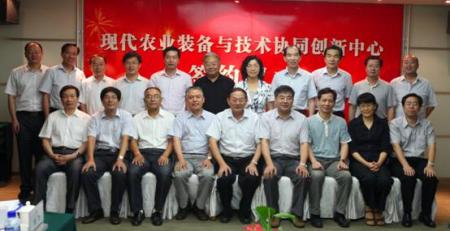 Council members of the Center
In accordance with the concept of elitist of science and technology, featured research orientation, advanced scientific and technological platform and international research team, the Center improves the system of scientific and technological innovation,and its ability, focusing on three key featured disciplines, including modern agricultural equipment, high-end metal structural materials, and new energy vehicles, and combining quality resources at home and abroad. The Center has been promoting vigorously the reform of the organization management, personnel system, personnel training, evaluation system, scientific research organization, resource allocation, international cooperation and innovation culture, deep integration of various innovative elements, establishing more open, efficient co-innovative model, and forming new advantages in the construction of a new mechanism.
The Center was founded formally in 2013, with a seminar attended by the over 124 experts in agricultural engineering field, including academicians, experts from 1000 Talents Program and Changjiang Scholars Program or Distinguished Youth Scholars Program, National Research Foundations and Provincial Research Foundations as well.
Signing Ceremony
Focusing on the cooperation and innovation, the Center opens its quality resources of education and scientific research. Since its establishment, the Center targets at key tasks of scientific research, has gained remarkable achievements. The members of the Center shoulder more than 330 projects of the national major projects concerning agriculture, 860 Plan, 973 Plan and the National Natural Science Foundation, the project funds of nine hundred million, and won the 70% National Science and technology award, the industry of the 55% National excellent doctoral dissertations for nearly five years. Among them, "the Key Technology and Equipment of Rape Combine Harvester" was awarded by "2nd Prize, 2014 National Award for Technological Invention " , and "The Protective Farming Technique " by the 2nd Prize of the National Sci-Tech Advanced Award.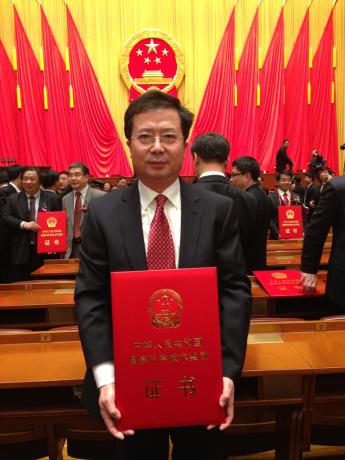 Prof. Li Yaoming, awarded by "2nd Prize, 2014 National Award for Technological Invention "