Features
National Prize for Sci-Tech Advancement by President Yuan Shouqi
2015-06-12
The annual National Science and Technology Award Conference was held in the Great Hall of the People in Beijing on January 9, 2015. Researcher Yuan Shouqi, President of Jiangsu University, won the 2nd National Prize for Sci-Tech Advancement 2014 with his projectTheory and Key Technology Research for High Efficiency Centrifugal Pumps and Its Industrial Applications.
President Yuan and his team, the China National Research Center of Pumps (NRCP), have long been innovators in the field, helping advance national economic development through outstanding scientific research. Their research focuses on reliability, efficiency and the special utility of centrifugal pumps through continuing systematic and in-depth research.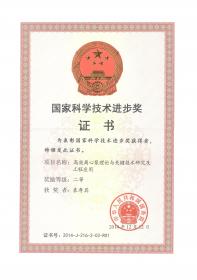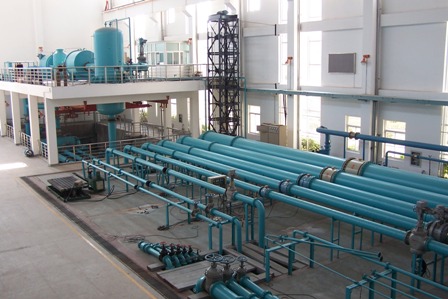 The China National Research Center of Pumps (NRCP), based on the only national key discipline in China that specializes in research of pumps, drainage and irrigation equipment, was established by integrating the Research Center of Fluid Machinery Engineering and Technology of Jiangsu Province and the Research Center of Fluid Machinery Engineering and Technology of Jiangsu University. NRCP, affiliated with the Branch Society of Drainage & Irrigation Machinery of Chinese Society for Agricultural Machinery, has always been the Training Center of Modern Hydraulic Machinery appointed by the Ministry of Machinery Industry of China. It is now a AAA-grade Jiangsu Credit Consulting Organization. The Journal of Drainage and Irrigation Machinery Engineering is sponsored by the NRCP. Since 1999, the Research Center of Fluid Machinery Engineering and Technology of Jiangsu Province has been successively evaluated as Excellent Center three times by the Department of Science & Technology of Jiangsu Province. In 2008, it was acknowledged as the Advanced Unit of Scientific and Technological Platform of Jiangsu Province.
NRCP is an important base of scientific research, talent cultivation and technological development in the industry of fluid machinery (especially pumps) in China. It is the leading technical organization in the field of sprinkling machines, small-sized submersible pumps and light industry pumps in China. It has three standing bodies, the Quality Supervision and Test Institute of Machinery Industry Product (Zhenjiang), the Quality Inspection Center for Pumps specially used in light industry, and the Jiangsu Province Quality and Technical Inspection Station for Pump Products. The Center for Quality and Technology Tests of Fluid Machinery of Jiangsu University is a nationally accredited laboratory which undertakes national and industrial tasks involving product inspections, production license issuance and delegated tests.
The NRCP has a contingent of highly talented personnel, with the innovation groups of Outstanding Subject Echelon and Scientific Innovation Team in the Jiangsu Teachers Building Project (Blue Project), Outstanding Scientific Innovation Team in the Jiangsu colleges and universities, etc. So far, the total number of faculty and staff members is 56, including 1 academician of the Chinese Academy of Engineering, 11 doctoral supervisors, 16 professors, 14 associate professors (or associate researchers), among them 1 winner of the National Science Fund for Distinguished Young Scholars, 2 national candidates for the New Century National Hundred, Thousand and Ten Thousand Talent Project, 1 winner of the Ho Leung Ho Lee Foundation for Scientific and Technical Innovation Award, 1 National Woman Pace-setter, 7 winners of special government allowances, 5 specialists making outstanding contributions at the provincial and ministerial levels and 4 academic leaders or mainstays selected in the ministerial New Century Talents Project.
The NRCP cooperates internationally with companies and universities all over the world, such as ITT, Hitachi and Groundfos. Many distinguished professors, from the USA, Europe, Japan and South Korea are appointed as part-time professors in the NRCP, having acted as academic committee members of the research center and the Journal of Irrigation and Drainage Engineering. NRCP holds the international forum on fluid machinery and engineering every year, which is also an international exchange and cooperation event.
Over 200 achievements have passed evaluation at or above the provincial and ministerial level, 4 of which were awarded National Science and Technology Advancement Awards. Two were granted the National Pedagogical Achievement Award, and more than 90 received Provincial Science and Technology Progress Awards. About 2000 academic papers were published. 1 was listed among National Top 100 Excellent PhD Dissertations. Over 50 national and industry standards were enacted or revised. 20 or so monographs and teaching materials were released. More than 70 national patents were granted. At present, 40 projects, including the National High Technology Research and Development Program (HTRDP), the National Science Fund for Distinguished Young Scholars, National Science & Technology Support Plan and those provincial and ministerial, for example, are under research, whose funding have been totaled 20 million RMB Yuan. About 80% of these achievements have been transferred into productivity. The NRCP also maintains technical cooperation with more than 1000 enterprises, having developed 600 new products, most rated as national energy-saving or renewal products, widely used for import substitution. Dozens of the products have been applied in some domestic and foreign large or middle-scaled projects, such as the South-to-North Water Diversion Project, the Three Gorges Project, the Diversion Project from Luanhe to Tianjin, Dongjiang-Shenzhen Water Supply, Comprehensive Management of the Taihu Lake Basin Project and the Iran Drainage and Irrigation Project, which have resulted in substantial economic and social benefits, making prominent contributions to the development of the industry of Fluid Machinery and Engineering as well.